Emma Morgan
Florist, forager, painter, illustrator, textile designer, noticer-of-things. 
I'm Emma Morgan, a colour-loving florist with a painting hobby that took a mind of its own (in the best way). You'll find me seeking solitude on the Mornington Peninsula, Victoria. 
I can't pinpoint exactly when my career began, because like many artists, I've forever been creating, making or tinkering. But it was around 2015 when folks started noticing. 
Medium 
My approach
I work entirely by hand using fine-liner and watercolours. All artworks are hand drawn onto cotton rag or paper using quality pigment ink pens and watercolours. I dip my toes into printmaking, oil paint and fabric dying too.
My artworks get high res scanned and reproduced, by me, in my studio.
After studying a Bachelor of Fine Arts at Monash University, and Interior Design at RMIT, I became inspired by Victorian-style illustrations, intricate line work, and home decor with joyful pops of colour. Now, my work is featured on cushions, throws and walls around Australia. That, and throughout various books, galleries and publications.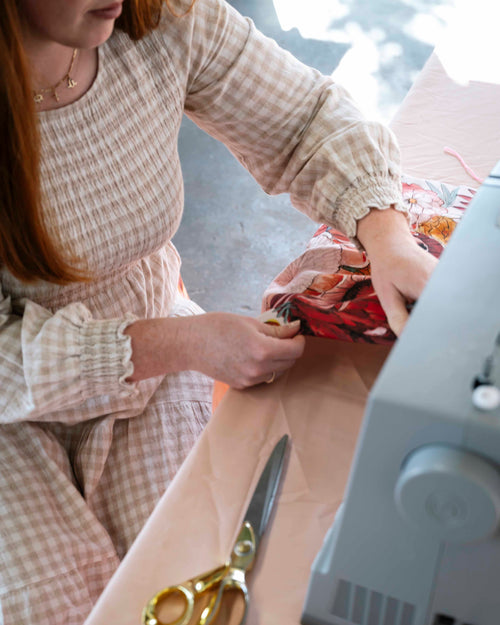 Australian made
I'm proud that all of my work is handmade, by me and some other clever local folks, in Australia (well, Melbourne and The Mornington Peninsula). By supporting Australian artists you're celebrating local talent and creating a sense of connection.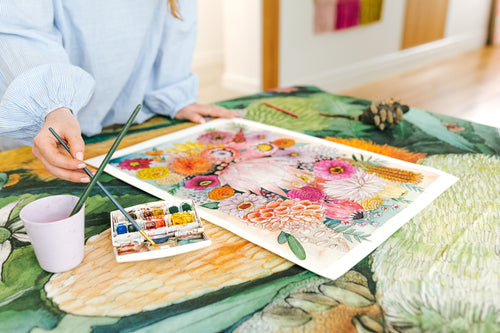 Honest depictions
I spend a lot of time researching and observing my subjects before drawing them. I find this creates the most honest depictions of nature.
Emma Morgan
As a natural introvert, I'm often spotted foraging for flowers, arranging bouquets or sewing pom poms onto things. Yet above all else, I'm also a noticer-of-things. Beautiful, obscure, easily missed things.  
Like the feathered edges of a mink protea. 
Like the best time of year to forage for Billy Buttons. 
Like the way a Leadbeater Possum rests in a tree hollow. 
Like the sharply serrated geometry of a banksia leaf. 
Like the way a Gang Gang cockatoo sounds like a creaking door hinge.    
Nature is full of bizarre forms, obscure textures and eccentric colours. I notice them, get close them, and create honest portrayals of them so you can add a pop of colour to your home. And spread joy. Always joy.